Oct 31, 2012
Best Celebrity Weddings of All Time
Everyone loves a celeb wedding.
Why?
Because we just can't get enough of their extravagant, tacky, and spectacular dos!
Whether it's an outrageously lavish event with every A-Lister donning an invite, or a small intimate ceremony for only the closest friends and family, we want to know all about it. So which fabulous couples are competing for the title of best celebrity wedding of all time...
Katie Holmes & Tom Cruise
Date: Nov 18, 2006
Venue: Odescalchi Castle, Italy
Married in the lavish estate of Odescalchi Castle in Bracciano, Italy, Katie and Tom's wedding was certainly one to remember.
Their 150 guests consisted of a huge array of stars including Jennifer Lopez, Victoria Beckham, Will Smith, Brooke Shields and Jim Carrey.
The ceremony was held inside a beautiful converted 15th century armory, with the entire event costing somewhere in the region of $3.5 million!
Katie looked stunning in an Giorgio Armani gown as she walked down the aisle clasping a bouquet of calla lilies.
After exchanging Cartier wedding rings and vowing never to go to sleep whilst angry, a reception was held in the castle's Hall of the Caesers.
Adorned with thousands of red and white roses, the couple shared their first dance to 'Songbird' by Fleetwood Mac.
Following the luxurious dinner catered for by Cruise's favorite restaurant in Rome, Dal Bolognese, guests watched a mesmerizing fireworks display which was accompanied by classical music.
The night ended with DJ Mark Ronson spinning all sorts of tunes, and J-Lo singing one of her own songs.
The next morning they set sail on a friend's private yacht to enjoy their honeymoon in the Maldives...as you do!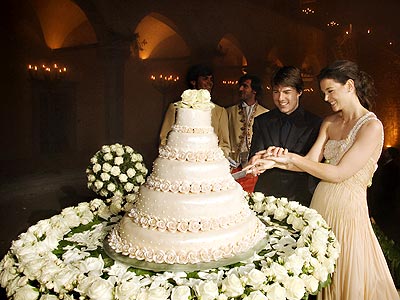 Cristina Aguilera & Jordan Bratman
Date: Nov 19, 2005
Venue: Staglin Family Vineyard, California
Tying the knot at the Staglin Family Vineyard in Napa, Cristina and Jordan made quite the impression with their luxurious traditional Jewish ceremony which was held inside a tent near an adjoining forest.
Aguilera sported a Spanish style dress designed by Christian Lacroix, which she teamed with a gorgeous pair of Christian Louboutin heels.
She walked down the aisle by herself and instead of a bouquet she opted for three single red roses and a vintage jeweled rosary.
The couple chose a snowy palette of creams, ivory and whites with silver accents in honor of the winter season.
Their decor was breathtaking with hundreds of silver birches, hydrangeas and manzanita branches wrapped in crystal lights.
After their first dance as husband and wife to 'In a Sentimental Mood', Christina took to the stage and sang 'Lady Marmalade' along with a dedicated performance of 'At Last'.
The DJ spun tunes till 5am when waffles were served for breakfast.
Rather than receive wedding gifts the couple asked for charitable donations for those affected by Hurricanes Katrina and Rita.
Posh & Becks
Date: July 4, 1999
Venue: Luttrelstown Castle, Ireland
Donning one of the most beautiful wedding dresses of all time, Victoria and David's marriage was only witnessed by a select handful of 29 close friends and family.
The dress itself was designed by the talented Vera Wang and featured a 20 foot train.
In her hair Victoria wore an 18 carat gold crown encrusted with diamonds, and David fashioned an elegant cream and ivory suit.
After exchanging tearful vows, a single white dove was released.
230 guests were invited to the lavish reception including the entire Spice Girls gang.
The newlyweds changed into matching purple outfits and sat upon two golden thrones.
The couple's first dance was 'It Had To Be You' which was performed by the Starlight Orchestra.
The evening ended with the release of hundreds of red balloons and a spectacular firework display.
Prince Charles & Diana
Date: July 29, 1981
Venue: St Paul's Cathedral, United Kingdom
Dubbed as the 'wedding of the century' Charles and Diana's special day was held in front of 3,500 guests at St Paul's Cathedral in London.
A procession 600,000 strong lined the streets to catch a glimpse of the princess bride as she arrived in a glass coach and wore an antique lace gown designed by Elizabeth and David Emanuel.
The princess's dramatic 25 foot long train and cathedral length veil was teamed with a beautiful bouquet of gardenias, freesia, stephanotis, yellow rose and ivy. The walk to the altar took nearly four minutes.
After the sensational service, celebrations continued in Buckingham Palace with a luxurious wedding breakfast.
They honeymooned on the royal yacht around the Mediterranean for 11 days.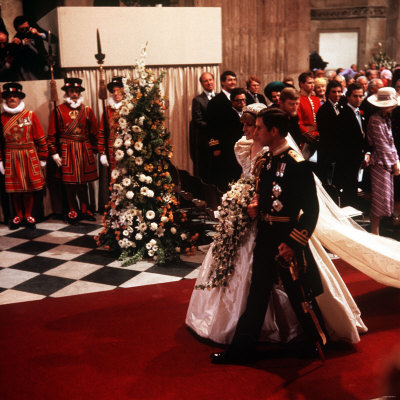 Brad Pitt & Jennifer Aniston
Date: July 29, 2000
Venue: Marcy Carsey, California
Brad and Jennifer exchanged vows on a breathtaking bluff overlooking the Malibu ocean.
In total two hundred guests attended the event including Courteney Cox and Cameron Diaz.
The bride walked arm in arm down the aisle with her father carrying a bunch of Dutch Vendela roses, whist fashioning a gorgeous glass beaded gown designed by Lawrence Steele.
The after party which was held in the grounds of the estate was decorated by Pitt himself to look like a tranquil Zen garden, and saw Latin jazz band Gypsy Magic get the guests in the celebratory mood.
Lanterns, lotus flowers and a 'Whole Lotta Love' by Led Zeppelin were all present, along with a 13 minute firework display.
After the reception, the couple jetted off to enjoy their honeymoon in the Seychelles.
Katie Price & Peter Andre
Date: Sep 10, 2005
Venue: Highclere Castle, United Kingdom
If fairytale weddings are your thing, then Katie and Peter's dream like affair is something worth getting excited about!
Arriving at the ceremony in a horse drawn carriage, true princess style, Katie stepped out in a bright pink meringue gown of epic proportions.
Peter wore a classic white suit and their impressive white wedding cake towered over 1 meter high.
Katie's wedding dress from Isabell Kristensen was absolutely monumental, with Katie herself stating that every time she had a fitting she wanted it to be bigger and more glitzy!
In the end, the dress measured 3 meters wide with a 7 meter long train that was plastered in crystals!
Although Katie's dreams really did come true, in reality the event was a truly tacky affair.
Elton John & David Furnish
Date: Dec 21, 2005
Venue: Guidhall, United Kingdom
Making history as the first same sex celebrity couple to marry in the UK, Elton John and his filmmaker partner David Furnish tied the knot only hours after civil unions were legalized.
The ceremony was a small private affair witnessed only by a handful of nearest and dearest.
Later they held a reception at their mansion which was attended by many famous celebs including Victoria Beckham, Ozzy and Sharon Osbourne, Naomi Cambell and Elizabeth Hurley.
Among the celebrity guest list, the couples black and white spaniel Arthur was also a privileged attendee.
Their black suits were more somber in style, but Elton still managed to add his own flair to the look with a quirky pair of purple spectacles.
The $1.75 million after party featured an exclusive Ben & Jerry's 'vanilla and appleys ever after cake' which was topped by two tin soldiers.
Wills & Kate
Date: April 29, 2011
Venue: Westminster Abbey, United Kingdom
When it comes to Royal weddings, Prince William and Catherine Middleton did it best!
Millions of onlookers from all over the world watched the happy couple become husband and wife as they exchanged vows in the legendary Westminster Abbey in London.
The Abbey was lavishly decorated with trees and flowers from the royal estates, and the bride was picture perfect as she descended down the aisle wearing an Alexander McQueen laced wedding gown by Sarah Burton.
The bridal bouquet was made up of lily of the valley, sweet william, myrtle and hyacinth, and the wedding bands were forged from Welsh gold.
After leaving Westminster Abbey in a 1902 State Landau they rode to Buckingham Palace where the Queen hosted a reception for 650 guests.
Later that evening Prince Charles hosted a dinner dance for the couple and 350 guests.
The last song of the evening was Kings of Leon's 'Sex On Fire'.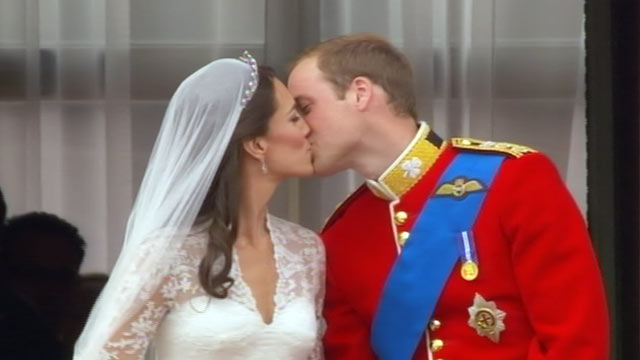 Donald Trump & Melania Knauss
Date: Jan 22, 2005
Venue: Bethesda by the Sea Episcopal Church, Florida
With a name like Trump you expect extravagance...and boy were we right!
No expenses were spared when Donald Trump and Melania Knauss got hitched in a traditional ceremony at Bethesda by the Sea church in Palm Beach.
The entire event cost somewhere in the region of $1 million with Melania's dress alone cashing in at a whopping $100,000.
Knauss's strapless Christion Dior white gown laid claim to more than 1,500 hand stitched rhinestones, and came complete with 16 foot veil and 13 foot train.
All in all the dress took over 1,000 hours to make!
The reception was held in Trump's Mar-a-Lago Estate, with the couple's first dance being Puccini's 'Nessum Dorma'.
The 450 guests which included Hilary Clinton, Simon Cowell and Barbara Walters spent the remainder of the evening listening to live performances from Billy Joel, Paul Anka and Tony Bennett.
What do you make of all these over the top celebrity weddings?
Share your thoughts in the comments below.
Read more