Mar 7, 2013
Cheap Wedding Centerpieces: 25 Inexpensive Wedding Centerpiece Ideas on a Budget {DIY Guide}
Depending on the size of your wedding celebrations, centerpieces could end up costing you a fortune.
If you're on the hunt for ways to cut costs then these 25 DIY wedding centerpieces will be right up your alley.
They're beautiful, classy and elegant - and they won't blow your budget! Who said DIY couldn't be spectacular?
Mixed Silver Spray Painted Bottles
Before you throw out all those bottles you've been hoarding for one reason or another, grab the silver spray paint and try your hand at creating some of these babies!
From wine bottles to flasks, if it'll hold flowers you can make it work!
Photography by Robin Nathan Photography
Styling and Floral Design by Estoria Social
Single Stem Peonies in Vintage Glass
Vintage glass makes for wonderful centerpieces.
Not sure where to find any?
Try your local antique stores, charity shops, eBay or even your grandmother's basement!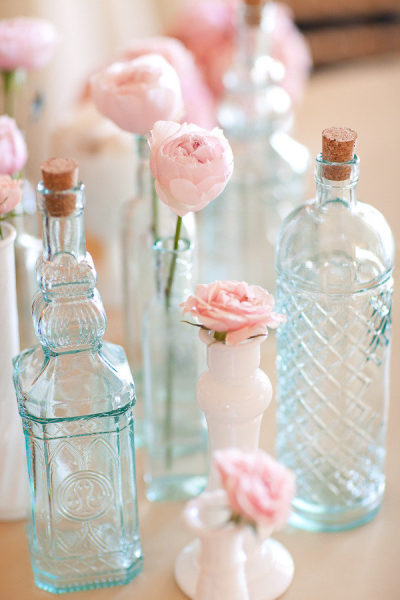 Photography by Michael L'Heureux Photography
Flowers and Event Design by Therese Jacinto Design
Mason Jar and Lace
Mason jars are so cheap to buy, and can be purchased pretty much anywhere.
Add a little lace to the outside of the jar, chuck in some sweet smelling florals and voila!
You've got yourself an ultra cute centerpiece.
Image via Project Weddings
Mossy Hill with Wildflowers
After something a little more quirky?
This super cool mossy centerpiece will certainly get people talking.
Perfect for rustic weddings with a DIY twist.
Image via Oncewed
Strawberry Summer Picnic
Getting married picnic style?
Simple yet elegant, this strawberry inspired centerpiece can be thrown together in next to no time.
Get yourself a few punnets of fresh strawberries, remove the stems and immerse in clear, cold water.
For added drama float a candle on top!
Image via Paint It Pretty
Pumpkin Candle Holders
Fall wedding or not, these pumpkin candle holders are an awesome idea for wedding centerpieces.
Pumpkins come in all shapes and sizes and each one is unique, making for an exciting and diverse display for your centerpiece.
Image via Wedding Favors
Rustic and Ravishing Natural Bark 
Rather than shipping all those plastic pots to the landfill, save them up and use them to craft these gorgeous rustic centerpieces.
With the use of natural bark and a little twine you can make something pretty spectacular!
Styling and Design by Amber Lay Events
Teacups and Flowers
Teacups are cute!
Whatever you put in them they never fail to impress.
They are easy to get a hold of second hand and will bring a shabby chic element to any wedding.
Image via Andrea Dozier
Living Vegetables
Who would have thought vegetables could look so good!
If I could go back and do it all again, this would definitely be my first choice for my wedding centerpieces.
You've gotta admit they look rather special.
Image via Art of Wedding
Green Apples and Orchids
Feeling fruity?
Bright green apples teamed with white orchids and roses is a recipe for success.
It looks incredible and a bag of apples has got to be one of the cheapest things in the supermarket.
If it's fruit season even better, as you might be able to nab yourself a cart load of apples for free!
Asparagus Vases
On the subject of food, these asparagus vases also look pretty nifty!
Position your asparagus upright around your vase of choice and hold together with twine.
Image via Wedding Bee
Brass Teapots
Wedding centerpieces don't always have to be anything fancy.
These brass teapots look beautiful and elegant without even trying.
Flower Adorned Branches
Branches can be found laying around just about anywhere there's trees.
Next time you're out and about enjoying a walk keep your eyes peeled for ones that look interesting, insert them into a vase filled with pebbles then decorate!
Image via One Wed
Artichoke Candle Holder
Artichokes are tasty, but they also make beautiful candle holders too!
Hollow out the inside, pop your candle right on in there and you're good to go.
Image via Bridal Cookie
Succulent Window Boxes
Succulents have become a booming trend in recent years where wedding centerpieces are concerned, and it's not hard to see why.
They can be used to quickly spruce up any container and can be purchased relatively cheap when buying in bulk.
Twigs and Branches
If you're going for the minimalist approach, then these twigs and branches centerpieces could be just the thing you're after.
Bundle them up and seal with a simple ribbon.
Image via Austin Wedding Blog
Floral Bird's Nest
You don't have to be marrying in the Spring to justify the use of bird's nest for your wedding centerpieces!
If you're crafty you can whip up nests just like these in an afternoon.
Bird Cages
For an injection of vintage glam into your wedding decor try these bird cage centerpieces.
The sky's the limit when it comes to how to decorate them.
Image via Brav0 Bride
White Clouds of Baby's Breath
Baby's breath is glamorous just the way it is and needs no explanation!
Image via Ruffled Bride
Fresh Herbs
Fresh herbs look great as wedding centerpieces, and they also make awesome favors for your guests.
Ideal for the eco-friendly couple!
Image via Austin Wedding Blog
Upside Down Flower Goblets
Upside down goblets as wedding centerpieces?
Yes you heard us right, and boy do they look divine.
Classy, simple and charming, these goblets would work well with any color scheme.
Image via Austin Wedding Blog
Wheat Chic
A bundle of wheat for your wedding centerpiece may not sound like much, but it more than makes up for it in looks!
Alluring and striking, wheat works perfectly for outdoor, rustic and barn weddings.
Image via My Wedding Reception Ideas
Pinwheels
Fun and flirty, pinwheels add a touch of silliness to your big day.
Craft them out of any color and style paper you please and be sure to make extras for the kids to play with!
Image via Budget Brides
Little Log Tables
If your hubby to be has the tools, these little log tables could transform your wedding decor without having to spend a cent!
If you simply must have these log tables but you don't have the means of making your own, try you local garden center or craft store.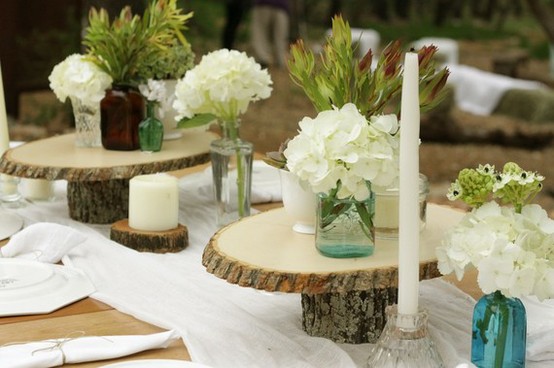 Image via Rustic Crafts
Paper Flowers
Paper flower are all the rage.
Use them for your bouquet, hairpieces, favors, centerpieces and more!
Plus they make wonderful keepsakes.
Image via Ruffled Blog
Hanging Bottles
Centerpieces don't have to be on the table you know!
If you're eating under cover why not try this creative hanging bottles idea?
Image via Blossoming Visions
Which DIY wedding centerpiece is your fave?
Let us know what you're thinking...you can just say "hi" too (we won't bite)!
Read more