May 22, 2014
5 Design Elements Your Wedding Website Needs to Have
A wedding website is a no-brainer for the modern bride.
It's easy to keep all your information on the site and update it at a moment's notice. You can direct people to your site if they have questions about your wedding, and you can make it match your wedding theme to keep everything cohesive.
But while you're setting up your wedding website, it's important to remember a few design elements so your site isn't confusing to visitors.
Most web designers already know about these tips for making a site efficient (so if you are one, you'll understand what this post is about). But if you've never worked with websites before, it's good you brush up on some best practices for site design.
Incorporating these five design elements into your wedding website will mean your site's looking its best all the way up to the moment you say "I do":
Font
Part of the fun of a wedding is picking the fonts (including their sizes and colors) for your wedding materials.
Keep in mind, though, that fonts on your website need to be readable. This idea trumps aesthetics, because no matter how pretty your site is, it doesn't matter if the visitors can't read the info you gave them.
Choose fonts that are easy to read that also compliment your site's design. Make sure regular text is at least 16 pixels; anything smaller and you risk people not being able to read it, especially on smaller screens (like phones).
Also, stick to maybe 1-2 different fonts for titles and subtitles, and one font for the text. You don't want to overload your visitors.
Colors
Your font and all other elements on your wedding website need to be easy on the eye and clearly readable.
Don't pick colors that are too close in the color spectrum. This seems obvious, but when you visit a bride's site with a white background and light grey font because she wanted a vintage theme, you have to wonder if it was worth it.
You also don't want colors that are too contrasting. Remember those websites in the early internet days that had pure black backgrounds and stark white font?
Yeah, just avoid that kind of thing and your visitors won't suffer from migraines when they visit your site.
Images
Now this might seem like another obvious design point, but many brides don't always think about it.
Make sure all your images are clean, crisp, and high-quality. There's little reason in this day and age to not have great images on your wedding website, and most free site creators allow you to upload high-resolution photos. Take advantage of that.
Pay special attention to any images you're including that aren't yours or your photographer's. For example, if you're including a picture of the restaurant where your rehearsal dinner will take place, don't just grab that fuzzy, too-small photo you found on Google. Find a better picture, take one yourself, or use another idea (like the restaurant's logo) instead.
Keep everything looking nice and attractive, and your visitors will be impressed.
Links
Navigating a wedding website shouldn't be difficult for anyone who visits it.
This means you need to make sure all links (internal and external) are working properly. Your best bet is to take a quick break from your wedding planning every few months to check your links and make sure they are directing people where they should be.
It's a good idea to also keep all navigation intuitive and easy-to-use. Don't hide links to your other pages behind a drop-down menu; put everything in individual tabs or images.
Basically, keep every internal link separated but clearly labeled. You don't want your visitors guessing how to find the information on your site.
Responsiveness
This last design element for your wedding website is crucial.
Don't underestimate the need for your site to be responsive. No matter what browser or device your guests visit your site from, they need to be seeing a well laid-out site that fits their screen and doesn't have any jumbled text or overlapping images.
Most free website builders offer mobile-responsive options now. For example, WeddingWire advertises that the sites you can create with them are all mobile and tablet-responsive. This is the kind of offer you want to be looking for when you're deciding where to host your website.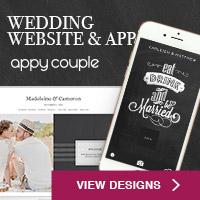 Finally, it doesn't take long to simply test your site yourself. After it's created, view it on a few different screens and browsers yourself to make sure it's A-OK.
Your Turn...
You don't have to be a professional web designer to have an amazing wedding website. With all the ready-made, customizable options on the market today, there's no need.
But you do need to keep in mind profession web design elements for your site. There's a reason they're standard across the internet, and it's smart to follow these five tips if you want a wedding website that's both functional and beautiful.
Which one of these design elements do you plan to pay the most attention to on your site? Let us know in the comments below!
Read more