Dec 19, 2012
Wedding Website Examples + Tips For Setting Up Your Own Wedding Website
Love makes us want to shout from the rooftops!
So why not put it on a website?
Wedding websites are all the rage among modern brides.
From spreading the news about your big day, to sharing your undying love for each other, wedding websites are beautiful and creative.
Being in love rocks!
Why You Need a Wedding Website
Not convinced that a wedding website is right for you?
Save on Printing Costs
If you've already dished out on the wedding invitations, you'll know just how expensive wedding stationary really is.
Can you imagine how much the price will sky rocket when you add another piece of paper to the mix?
A wedding website acts as a central hub that you can direct everyone to for all things wedding related.
Whether your guests need to know about the bridal shower or the stag do, printing excess info won't be necessary when you've got a wedding website to do all the hard work for you.
Stay Connected
Staying connected with your guests couldn't be easier!
Most wedding websites offer RVSP and guest book sections where you can ask your guests to enter their email addresses to be notified of any site updates or changes.
It's a lot less hassle to send one email rather than to make 100 phone calls.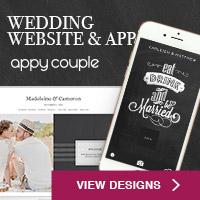 Effortless Registry
If you want to make things super simple for your guests, then why not link directly to your wedding registry from your wedding website?
This way guests know exactly how and where to access you wedding registry which will hopefully give your parents a rest from answering endless phone calls about what gift to get you.
Changing Plans Is A Piece of Cake
Need to make last minute changes to the wedding arrangements?
Whatever you need to change, be it hotel updates, weather forecasts, or transport details, you don't need to turn into a bridezilla.
Changes can be made in a matter of minutes, easing the pressure on you and making life a whole lot easier.
Eco Friendly
No matter what you use your wedding website for - your site will save on paper, envelopes and stamps.
That means less trees cut down on your behalf and less carbon emissions by sparing the mailman a trip or two!
Whether you decide to go the full monty and ditch paper altogether, or just use your site to eliminate a portion of the wedding stationary you'd normally be expecting to send, you'll definitely be doing your bit for the environment.
What To Include
Need a wedding website checklist of what to include?
Check these out:
Basic Info
At the very least your wedding website should have basic information such as your names, a photo of you, the wedding date and venue, and preferably a greeting to welcome any visitors.
How You Met
Hearing about the romance will help to get guests in the mood for the big day.
If there isn't much to tell, then share some of the stories from your relationship's journey.
A little bit of creative writing and a few heartfelt memoirs will be sure to leave the guests wanting more.
Who doesn't enjoy a good love story?
The Proposal
Nothing beats the touching story of how the proposal went down.
There is just something about wedding proposals that put a big smile on people's faces.
You can get as personal as you like with your wedding website, so don't forget to include these heart warming extras that will make your site all the more special.
Snapshots
Another little extra that will give your wedding website that extra pop, is a series of casual snapshots or brief video clips of the two of you.
This is especially great for helping those more distant relatives to get to know you a little better.
Wedding Party Info
Your wedding website is the ideal place to introduce your wedding party to the world.
Who are they are why did you ask them to be in your wedding?
Suggested Attire
If you don't want guests turning up in shorts and t-shirts, guide them in the right direction by telling them what sort of affair you are throwing.
Guests always get in a tizz trying to figure what is or isn't acceptable to wear at weddings so give them a helping hand.
RSVPs
Convenient and cost effective, having guests RSVP online through your wedding website will save you money, time and effort.
Directions
One of the best parts about having a wedding website, apart from the fact that it celebrates your love for one another, is the ability to easily share directions with guests.
Include detailed instructions and embed a Google Map or a custom drawn one if you're feeling really artistic.
Do it well and you'll avoid no end of phone calls from panicked guests that can't find the venue.
Hotel Info
If you've got out of town guests then more than likely they will need to find a place to stay.
Whether you've chosen to reserve a block of rooms or simply want to recommend nearby options, links from your site are the easiest way to let everyone know.
Wedding Registry
Including a link to your wedding registry is a smart move - just make sure it's not the first thing that your guests see when they land on your site.
Since you don't want to imply that guests are obligated to bring a gift, keep it discreet and classy.
Top Five Wedding Website Builders
Confused by the abundance of wedding website builders to choose from?
Give one of these a whirl.
mywedding.com offers over 600 beautiful website designs to keep your guests updated in style.
Add registries, photo galleries and background music, and even let guests RSVP on your website.
From traditional and modern to vintage and retro, there are designs to suit all future newlyweds.
Best of all it's 100% free!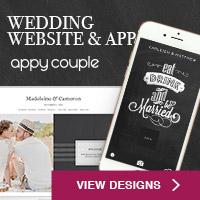 What makes Wedding Jojo so fabulous is their clean, clutter free approach.
It's simple to use and has a whole host of gorgeous templates and incredible features, including a free planning kit, password protection, and your very own blog!
Choose from two options - free or premium.
Weduary is an elegant wedding website builder that takes full advantage of social networking.
Sync your wedding website directly with Facebook, allowing you to create stylish RSVPs straight from your Facebook account.
Not everyone on the guest list has a Facebook page?
Fear not, as you can use email as well.
Weduary is DIY at its best.
You can customize everything, from the domain name and registry info, to the color palette.
Wedding Window has everything you need to create the perfect wedding website.
Their free option gives you endless customizable options and features such as fabulous theme choices, web apps, planning tools and a brilliant step by step site wizard that can help guide you through the process every step of the way.
If you really want to push the boat out though, Wedding Window's premium option, although pricey, provides you with the ultimate control.
eWedding is a complex and feature rich wedding website for the budget conscious bride and groom.
The best thing about eWedding is you can create an elegant wedding website and have it up and running in next to no time.
The downside with eWedding is the free option includes ads, and the themes are a little outdated but overall we still think it deserves to make the top five.
Get Inspired
Get inspired by these beautiful wedding websites...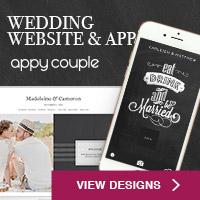 Your Turn...
Do you have any tips to share for setting up a wedding website? Let us know in the comments below...
Read more